2010 Syrah
Griffin's Lair, Library Release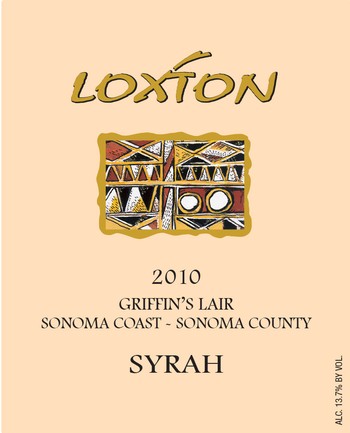 Wine Specs
Bottling Date
April 6, 2012
This is my 4th so called "Library Release" wine. The Griffin's Lair Syrah is one of 4 I bottled in 2010 (the others were from Rossi here in Glen Ellen, Archer in Russian River and Kick in Santa Rosa). It was just my second year working with the vineyard but it immediately became one of my favored sites as the fruit seems to develop color and flavor at lower sugars than normal for California while retaining acid and tannin that are necessary for wine to age gracefully. An extreme heat wave in late August did no damage at Griffin's Lair due to the cooling influence of the San Francisco Bay, although the alcohol is a little higher than it would have been otherwise. I liked the wine (a lot!) at release 3 years ago, but felt like it would also benefit with further bottle age.
The idea of holding back a reserve of wine for later re-release started with the '07 Ellen Syrah. Winemakers might think about the right time to release the wine, waiting for tannins to soften and secondary flavors to develop complexity, but holding inventory is not good business. Consequently, many of today's wines are made to show well earlier but I I've always thought it best to not hurry nature. I hold wines in barrel and then in bottle until I think they are ready with the expectation that the wines will also then be able to age in the cellar if so desired. As a benefit for club members my "library" wine is stored under ideal conditions before re-release.
Although it's been a few years since I last tasted this wine (so many wines, so little time!) my notes reveal that with aging there are some cedar and hints of leather developing around the core of black cherry fruit. It's a softer elegant Syrah with great depth of flavor and lots of fruit. I think its best now and for another 2-4 years and it will work with most foods although I found it a great match with lamb chops. When I had an Australian winemaker visit a few months ago, this was the wine I sent him home with as an example of what I am doing.
Wine Specs
Bottling Date
April 6, 2012
Wine Profile
Production
197 cases produced, 90 cases released spring 2017