2014 Cabernet Shiraz
Grandfather's Cuvée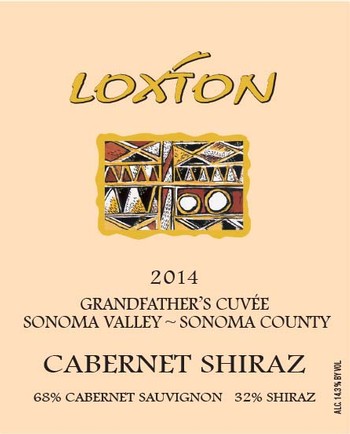 Wine Specs
Appellation
Sonoma Valley
Bottling Date
July 12, 2016
The concept of a Cabernet Shiraz blend just seems to make sense. Of course, everything in hindsight seems to make sense and its not like I've come up with the blend by myself. My grandfather's grapes went into a Cabernet Shiraz blend back in the mid '70's so I've known about it for a while! Cabernet can be lean and Syrah can be rounder and softer, so putting the two wines together seems reasonable. What makes it all work though is some Synergy. We could have blended in Pinot noir which is rounder and softer as well, but adding that Syrah just seems to make the wine pop. It might be fun to speculate why this is (perhaps the herbal nature of Cabernet requires the cherry fruit of Syrah and/or Merlot), but the bottom line is that it doesn't really matter. Australia has shown that it works well there and has for many years, and I've got excellent examples of my wines going back to the original 2005 to show that it works well here.
The basis for the blend is the McGraw vineyard Cabernet sauvignon and some of this was bottled separately and was included in last Fall's shipment. I have a number of Syrah wines to blend with but I usually use the Syrah grown here on the Estate. The vineyards are close by and when I walk this vineyard I can see the cabernet vines, and that just seems to be the right starting point. For the 2014 I've used 32% Syrah which sounds an unusual number, but what I do is put a preliminary blend together after 15 months in barrel and then return it to barrel for additional aging. Just prior to bottling I do another blending trial, making very small adjustments to make the best wine I can.
By their very nature (tannins, oak and acid), these are wines that improve in the bottle. This wine is one of my favorite Cabernet Shiraz wines so far made and is fresh and harmonious and shows Cabernet's lovely cassis and mulberry fruit notes but with a sweetness and richness from the Syrah. The fruit masks the obvious tannins and the oak seems to have been swallowed up, making just a small appearance on the finish. Although we have used almost 30% new oak barrels in the aging of the wine, they seem to have lifted up the wine and added sweetness without the oak flavor masking the fruit. Drink now with bigger meals or can be aged for up to 10 years.
Wine Specs
Appellation
Sonoma Valley
Bottling Date
July 12, 2016
Wine Profile
Production Notes
221 cases produced
Production
68% Cabernet Sauvignon, 32% Shiraz