2015 Pinot Noir
Griffin's Lair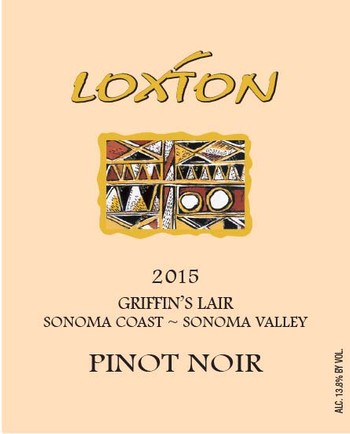 Wine Specs
Aging
12 months French Oak, 18 months in bottle
Bottling Date
August 30, 2016
Its hard to believe I started making Pinot noir over 10 years ago and I initially waded in as I liked the newer California Pinots. It is regarded as being the most difficult grape to work with and I thought the challenge might make me a better winemaker, thus helping my other wines. The interesting thing is that I haven't really needed to change the way I make wine very much; the relatively non-interventionist approach I take to other wines seems to work just fine with Pinot. Perhaps the biggest challenge was getting to know the fruit and making the right stylistic choice of how to bring out the best character of the vineyard. When I worked with Russian River Valley fruit from the Archer vineyard I picked a little riper to bring out the cherry cola notes that we find so often in Russian River. I pick a little earlier with Griffin's Lair, as it makes a more delicate pinot. I've also learned to use barrels with less oak toasting as the fruit seems to have a little of a smoky note anyway and it can become too much. This is a slow learning curve as there is only one harvest each year and each year has different weather conditions that effect the grapes.
The common theme through the 10 years, no matter the vineyard, has been that Pinot requires doing as little as possible because it lacks color and tannin that are natural anti-oxidants. I make the wine in a typical red wine manner by fermenting with the skins, but then treat it like a white wine, being very protective against oxidation.
2015 was a fairly straightforward harvest. Continued drought meant very low yields and less wine, but excellent concentration. Two different clones (Pommard and 115) were picked together and blended; the Pommard giving color and richness and the 115 giving aromatics. Holding the wine back for an extra 6 months bottle age past the normal Fall release has seen a sweet cherry fruit note develop to go with typical Pinot forest floor, tobacco leaf and just a hint of smokiness. It should provide lovely drinking with lighter meals now and for the next 5 years.
Wine Specs
Aging
12 months French Oak, 18 months in bottle
Bottling Date
August 30, 2016
Wine Profile
Production
169 Cases Produced