2015 Syrah
Griffin's Lair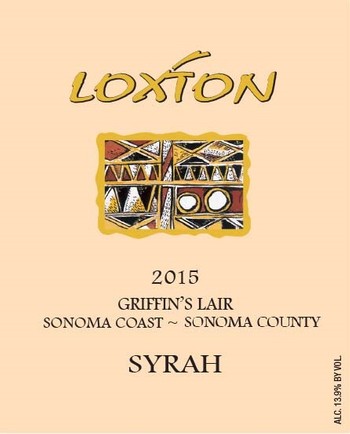 Wine Specs
Aging
12 Months in barrel
Bottling Date
August 30, 2016
In the 20+ years that I've been making my own wines I've worked with quite a few vineyards across Sonoma County. Without being really aware of it I have gravitated to vineyards where I like the owners, often people who have what we might call "lifestyle" vineyards. They are people who had a successful career and then decided to move to Sonoma County and start a vineyard. The drive to be successful in business is the very reason that made them successful grape growers as they are driven by the quest for perfection. There would be no better example of this than Jim and Joan Griffin.
After a successful business in industrial device manufacturing, Jim and Joan (who had been together since high school) decided to move to Petaluma and start a vineyard on a property that also had a small equestrian operation. The romance of having a vineyard is quickly replaced by the reality of the hard work and risk hidden behind the "glamour". I suppose there are many things you can throw infinite amounts of money at, but vineyards and horses would certainly be close to the top of the list and they had both!
On the plus side, because of the passion and drive to be the best, the fruit of all this labor can be very good indeed. This doesn't happen by itself and in the quest to grow better grapes, the Griffin's have been innovative. They have been organic, even tried biodynamic farming for a while, have used composts and teas to improve soils, planted Alyssum to encourage beneficial insects, even used a laser system to scare away birds. These are fanatical growers and their fruit is in high demand. I also make a Pinot noir from their vineyard, but I think Syrah might be the best variety for this excellent site.
Joan also planted a few rows of Viognier and once again I've used a small amount to co-ferment with their Syrah grapes in the same tradition that is often done in the Northern Rhone. It adds a floral note to the wine, making it just a little more complex and interesting and is a fitting tribute to the Griffin's legacy in their second chosen career. It has intensity of flavor while keeping alcohol levels fairly modest. This makes it a wonderful wine at the dinner table and to hold for another 5+ years.
Wine Specs
Aging
12 Months in barrel
Bottling Date
August 30, 2016
Wine Profile
Winemaker Notes
97% Syrah, 3% Viognier