2016 Pinot Noir
Griffin's Lair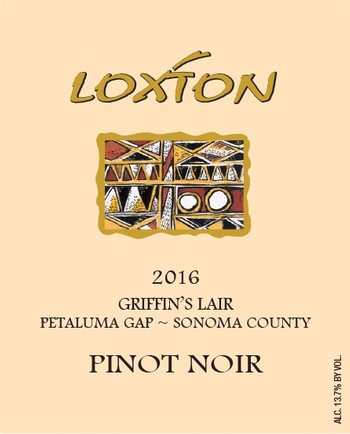 Wine Specs
Vineyard Designation
Griffin's Lair
Bottling Date
August 29, 2017
While this is my 6th Pinot release from Griffin's Lair, it is the first to have the "Petaluma Gap" AVA (American Viticultural Area) designation. The 2017 declaration acknowledges that area wines show similarities, probably related to the soils and the strong winds from the Pacific sweeping this area. I saw this first hand last year when 11 wineries donated 3 gallons each of their Petaluma Gap Pinot for an auction lot to raise money for charity. When all 11 wineries got together to assess components and make the final blend there was a common thread showing through them all. In addition to the normal cherry flavors of Pinot noir, these wines were more elegant, more complex and with a more earthy and tobacco leaf note than other appellations (it was fascinating and also rewarding when the lot attracted very spirited bidding).
We discovered we also shared a problem with the region's voracious birds eating the precious Pinot grapes. Approaching Griffin's Lair vineyard along Lakeville Highway, you see almost every vineyard has protective netting to stop the bird damage but it is cumbersome and very expensive. So, someone is making money, even if it's not the grape grower! Jim and Joan Griffin made headlines in 2017 by switching to an experimental system that uses flashes of laser light to scare the birds after detecting them with motion sensors. I have to admit being a bit concerned I'd have to wear special goggles to sample the vineyard (I didn't) and it seemed to work quite well.
My Pinot noir from this vineyard seems to have settled into its style. The first 2 years were extreme, the cold year of 2011 being a lighter more elegant wine and then the extreme heat of 2012 leading to the biggest, ripest and wildest wine. Since then it has been remarkably consistent. This wine is right in that style, some cherry, some forest floor of classic Pinot, good structure and excellent fruit sweetness. I think it has a little more structure and fruit than the '15 version and is wonderful to drink now and for the next 3-4 years. Try this in a bigger bowl glass—you will be surprised by how much better it shows in the more classic Burgundy tasting glass!
Wine Specs
Vineyard Designation
Griffin's Lair
Bottling Date
August 29, 2017
Wine Profile
Production
147 cases produced