Hawk Hill Vineyard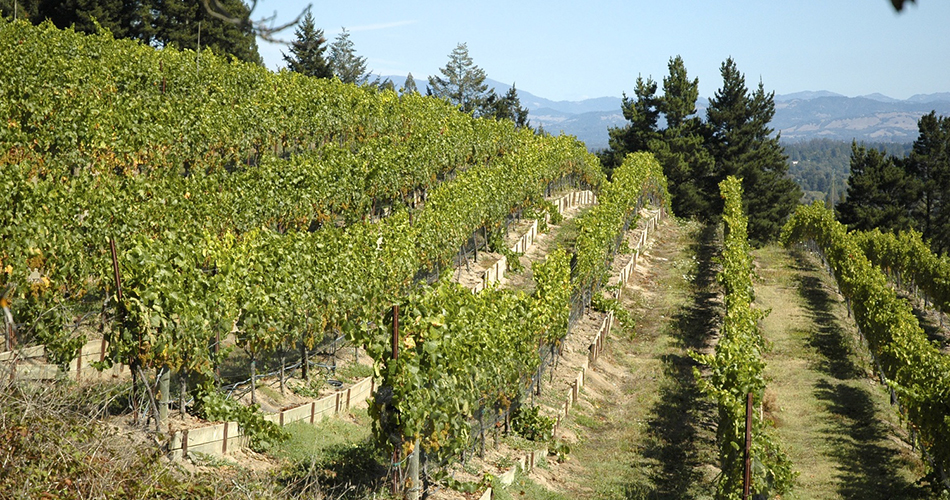 Russian River Valley
Chardonnay and Pinot Noir
It's important to taste wines from other producers and other regions in order to keep a winemaker from developing a "cellar palate" and losing objectivity. Early on in my career here in CA I was in 4 tasting groups, including one that met in Yountville. One night, Greg La Follette (then winemaker at Flowers) presented a vertical of all Chardonnays made by and for Flowers winery. I came away thinking that I actually do like Chardonnay and if I could get grapes from the Sonoma Coast, I might reconsider my red wine only focus.
The opportunity came within a year. In 2001 I heard about Hawk Hill Vineyard in Freestone, just a few miles from the coast, and they had some fruit available. Paul and Vicki Michalczyk had planted Chardonnay (and later, Pinot noir that I was fortunate enough to get small amounts of in 2005 and 2007) in an area that 20 years ago was thought to be unsuitable for grapes. Indeed, it's a cold and foggy area that takes an extraordinary commitment to viticulture but which now is the "hot" area for great Chardonnay and Pinot noir. These hardships of intense mildew pressure, cold and rain also mean that extraordinary grapes are possible, even though vintage differences are magnified and crops (and profits) are small. These are Goldridge soils that don't retain much moisture and it's important to control water stress, but they allow vine vigor to be controlled. Freestone is a late ripening area and in my 15 vintages I have harvested in November almost 50% of the time. This means dealing with rains, but the payoff is intense fruit flavors and great cleansing acid levels in the wines. It's the style of white wine I wanted to make, intense and with crisp acidity. The vines are planted on a south facing slope and are pruned on a modified Smart Dyson system which allows excellent fruit exposure so that the fruit dries out after the fog, in order to avoid fungal diseases. It is a difficult place as the cold weather leads to canes with little fruit and yields can be low. With these difficulties it is important for me to respect that fruit and not overwhelm it with winemaking, thereby allowing the vineyard to speak.
In Spring of 2014, Bill and Margaret Yarak took over the responsibilities of the vineyard and from this prospective, it has been a seamless transition. The vineyard consultant, Greg Adams, and vineyard management have been retained and it has been exciting to see that areas not previously planted to grapes have now been developed.