Estate Vineyard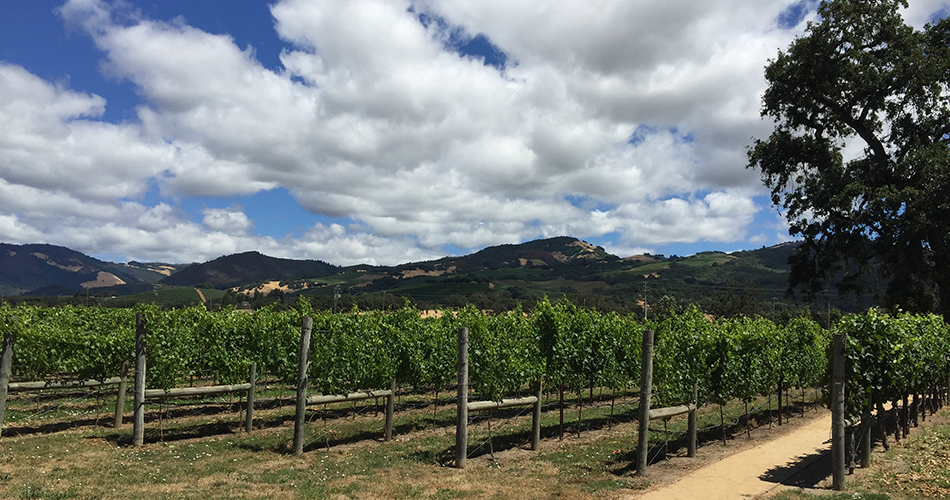 Sonoma Valley
Syrah
Grenache
Petit Sirah
Zinfandel
Viognier
The estate vineyard surrounds the winery just off Highway 12 and just west of Glen Ellen in Sonoma Valley, California. It is a valley floor property with spectacular views of the Mayacamas Mountains and the Moon Mountain Appellation. Although its neighboring vineyards date back to the 1870's (Kunde), 1880's (Pagani Ranch) and 1890's (The old Rico Gallo property, then more recently Wellington Vineyards), this property had no vines until Bruce and Judy England decided in 1999 to plant a vineyard at the request of Wellington Vineyards.
5 acres of Syrah and ½ acre of Zinfandel were planted in 2000 and the first wines were made at Wellington in 2002. 3 different clones of Syrah, Alban 1, 174 and 887, and 4 different rootstocks were used to match up to the different soils on the property. Initially all of the grapes were to be sold to Wellington Vineyards but after Loxton Cellars winery opened in a converted utility building in 2004, about half went to Wellington and the remainder to Loxton Cellars. In 2012 an investment group bought the property and then leased the property back to Loxton Cellars for 10 years and I took over the vineyard management. Starting in 2013 all grapes from the vineyard were retained by Loxton Cellars and this allowed the re-development of the vineyard.
In 2013 ½ acre of Syrah in the earliest ripening section of the vineyard was grafted over to Grenache (the Alban 1 selection) and ¼ acre grafted over to Petite Sirah using a field selection from Wellington Vineyards. In 2014 the 877 selection of Syrah was removed due to virus issues and the driest soil areas replanted with Syrah clone 470 and the wettest soils replanted with ½ acre of Viognier clone 2, in order to make a dessert style Viognier.
The vineyard has continued to be sustainably farmed without the use of pesticides and with minimal use of herbicides. Organic compost is used as needed to help in the weakest areas of the vineyard and drip irrigation is used minimally as needed.
The Estate grapes now total 40% of overall production and go into the Estate Syrah, Reserve Cuvee Ellen Syrah, Port, Rose of Syrah, Pioneer Cuvee (a Zinfandel based blend) and GSP (Grenache, Syrah and Petite Sirah blend).