2019 Late Harvest Zinfandel 500ml
Casa Santinamaria Vineyard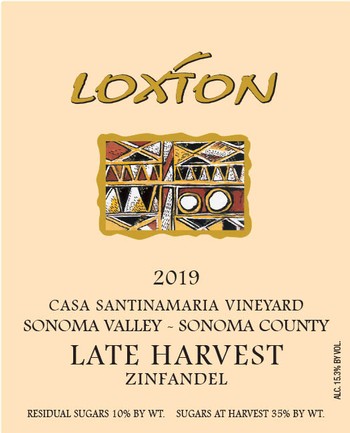 Wine Specs
Appellation
Sonoma Valley
Vineyard Designation
Casa Santinamaria
When I'm looking for an after dinner wine, something sweet, I often think about a late harvest wine. I love Port, but if I've had wine with dinner then Port can be a little too heavy and then I think of the late harvest wines. White wine versions are lovely with fruit based desserts and my late harvest Viognier is an excellent example. There are also red versions and I've made a number of late harvest Zinfandels over the years, where the fruitiness of Zinfandel and richness of red wine makes for the perfect pairing with chocolate, or just by itself.
The Casa Santinamaria vineyard was planted more than 100 years ago just on the edge of Sonoma township with a number of other varieties intermixed with the Zinfandel vines. I got to know the vineyard in 1995 when I worked with this fruit to make red wine while at Wellington vineyards. The original vineyard has been split up and now has a number of owners, one of which has become famous for the Rosenblum "Maggie's Reserve" zinfandel.
My vineyard manager, Rafael Oseguera, has resurrected the Casa Santinamaria section, replanting the missing vines and upgrading the farming practices to nurse it back into health and he and his crew have done a fantastic job. At the end of the 2019 harvest I found out that Rafael still had a few tons of grapes left out in the vineyard but it was about a month after it would have been picked for a red wine. Despite this time, fruit and vine condition were still excellent and while the fruit was very sweet it still had lots of acid to balance out the sugar and I thought it was perfect for a late harvest dessert wine. The wine was made in the same manner as my Zinfandel red wine except that the fermentation was stopped with the wine at 15.3% alcohol while still with 10% residual sugar left unfermented. Despite this high sugar content, there is enough natural acidity in the grapes, and enough tannin from the mixed red grape varieties that the wine remains clean and not cloying sweet. I would rank the wine on par with the 2008 Late harvest Zinfandel from Russian River as the best examples I have made. Its depth of flavor and balance makes it a wonderful dessert wine. It can be enjoyed for 2-3 weeks once opened and I leave the wine in the fridge once opened. Enjoy this with dark chocolate!
Wine Specs
Appellation
Sonoma Valley
Vineyard Designation
Casa Santinamaria
Wine Profile
Production Notes
103 cases produced