2014 Syrah
Griffin's Lair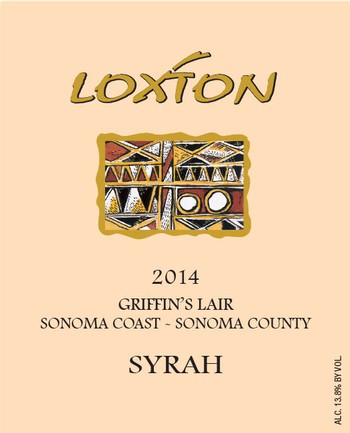 Wine Specs
Bottling Date
March 23, 2016
Syrah from the Griffin's Lair vineyard is different to any other Syrah that I've worked with in the 20 vintages of Syrah that I have made. It develops color and flavor much earlier and at lower sugars than my other vineyards and this can be a plus in making a wine that has full flavor but lower alcohol than some. I like the lower alcohol as it makes the wine better to enjoy and have with food, but I don't want to have this at the expense of flavor. I think that part of the reason for the early flavor development is how close the vineyard is to the Bay where the moderating influence of the water leads to a very long growing season. Without the danger of frost we see leaves and fruit developing weeks ahead of here in Glen Ellen and without our extra heat of summer, the grapes ripen slowly and evenly with great flavor.
For this wine I've included a small portion of the white grape Viognier, as is often done in the Northern Rhone area of France. The grapes are picked and co-fermented together and the idea is that it adds a floral note to the aromatics and interestingly, it also helps to improve color stability.
I find the spice of Viognier evident by aroma, but what it seems to have added is a sweetness and volume to the flavor. 2014 produced a very small crop at Griffin's Lair and I have the fewest cases that I've produced, so it may be that the lower yields and the Viognier have both combined to produce the most concentrated Griffin's Lair Syrah to date. Drink with rich foods now and in the next 5 years.
Wine Specs
Bottling Date
March 23, 2016
Wine Profile
Production
94 cases produced, bottled with a screwcap