2015 Cabernet Shiraz
Grandfather's Cuvée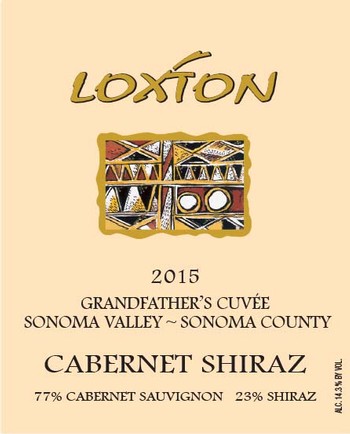 Wine Specs
Aging
17 months in barrel
Bottling Date
July 19, 2017
While I was hoeing weeds in the Syrah block in front of the winery I came across an old tennis ball. I immediately thought of Jake, the McGraw's chocolate lab. There were two things that Jake loved; tennis balls and getting patted. He seemed to go everywhere with a tennis ball but often dropped them when he got distracted. It was funny to watch him trying to deal with 2 tennis balls at once, because if 1 ball was great, then 2 must even be better but it was tricky to hold both. I used to find these balls all over the McGraw vineyard and I guess he dropped one here when they were visiting the winery. The other thing that made me laugh was that he learned if he butted his head into your groin area you would immediately bend over and pat him. He is sorely missed.
It made me think about vineyard dogs. At Rossi Ranch they bought a beautiful Italian truffle dog after using a few acres of land to try and grow truffles. I'm hoping it works, they would be perfect with the Rossi Syrah! The Griffin's had a number of dogs, Australian heelers, and they seemed like great vineyard dogs, full of energy to chase rabbits and birds, even though they made huge amounts of noise whenever they detected a winemaker doing grape sampling. The Michalczyk's at Hawk Hill had a couple of Yorkies, very pretty but mostly inside dogs. Of course I get some flack from my family in Australia about our short legged poodle; the consensus being that he's just not appropriate for a winery. Maybe they are right as he seems like Velcro and gets covered with detritus every time he goes into the vineyard. But he really makes me laugh and that's important in the stress of dealing with harvest.
The McGraw vineyard Cabernet is, of course, the basis for the Cabernet Shiraz blend, a tribute to my grandfather. The Shiraz (Syrah) comes from the estate vineyard. What ties the two vineyards together, aside from tennis balls, is the complementary nature of the wines. The roundness and sweetness of Syrah balances the structure and herbal fruit notes of Cabernet. The wine is drinking well now and will for another 5 years. It was originally included in the Spring shipment as we did not make a vineyard designate McGraw Cabernet in 2015. I think Jake might have approved!
Wine Specs
Aging
17 months in barrel
Bottling Date
July 19, 2017
Wine Profile
Vineyard Notes
77% McGraw Vineyard Cabernet Sauvignon, 23% Estate Syrah
Production
257 cases produced