2016 Cabernet Shiraz
Grandfather's Cuvée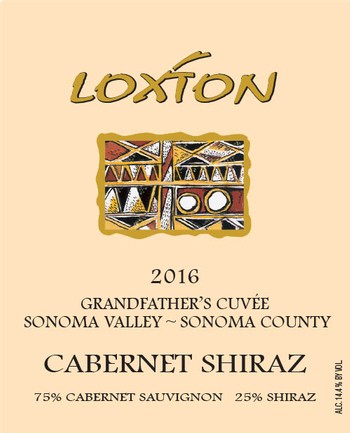 Wine Specs
Appellation
Sonoma Valley
Aging
17 months in barrel
Many people don't realize that as they drive around wine country about half of the vineyards they see are privately owned with a business model just to sell grapes. Furthermore, within each vineyard there may be several winery contracts and individual areas may be farmed slightly differently and with a different contract price per ton. I love this "a la carte" way of doing business as it means that I can have the vines farmed just the way I want and picked when I want, but the grower also is reimbursed for extra effort with an up-charge for each additional service.
My Sonoma Cabernet grapes come from the McGraw vineyard here in Glen Ellen and I buy them under a similar contract. While most of the vineyard is pruned with shoots coming up off a permanent vine arm (a cordon, thus cordon pruned), my block is set up where each spring a cane is left and tied down to become a temporary arm for that year (cane pruning). It requires much more expertise from the pruner, but the theory is that each vine can be individually tailored for its vigor. We set this up in 2003 when I first started to work with the McGraws as they were establishing their vineyard. While I can appreciate the science, a part of me wondered if Jim, the vineyard manager, was just showing off how skillful he and his crew was. After all, even I can quickly master the rules of cordon pruning when I count one bud, then 2 buds and cut. Pretty easy! Whatever Jim's reason really was, sometimes the smart thing to do is have an expert and just let them do their job.
Although Jim has long since retired, my block is still pruned that way and I have to say he might have been right. The proof is in the grapes and wine and here I've started with the base Cabernet wine (6 barrels were kept as Cabernet and released as the vineyard designate wine in Spring) and the remainder blended with Estate Syrah to add a little more middle palate weight and balance the acidity to make this Cabernet Shiraz. It is ready to drink now or can age for up to 10 years.
Wine Specs
Appellation
Sonoma Valley
Aging
17 months in barrel