2015 Cabernet Shiraz
Grandfather's Cuvée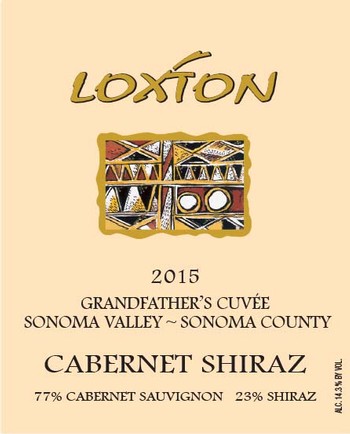 Wine Specs
Aging
17 months in barrel
Bottling Date
July 19, 2017
In the last week of January I went to San Francisco to attend the 14th in a series of annual tastings put on by the Union Des Grands Crus de Bordeaux. It's a great event where 80+ of the Chateaus of Bordeaux send principles to show off their new releases. They do this in 5-6 cities across the US and I try to go every time I have the chance. The interesting thing is none of the red wines are 100% Cabernet sauvignon, they are always blends. The Bordelais have found through hundreds of years that by itself, Cabernet can be rather tannic and sometimes a little thin in the middle palate. Blend in a little Merlot and perhaps even some Cabernet franc and the wines really sing.
There are some take home lessons in these mega tastings. The first is rather obvious; take a spit cup and don't drink too many wines! The second is not so obvious. In the crowded and noisy atmosphere of a walk around tasting, the wines that tend to stand out are those that are obvious. They jump from the glass, almost eager to please, ready to show off their color, oak, richness and alcohol. The more difficult wines to evaluate are those that are elegant and well balanced. I found myself coming back to two in particular (Talbot and Lagrange if you have to know!), asking to try them again. Away from the maddening crowds I found the flavors complex and layered with taste sensations that were harmonious and long. This is, in fact, the style of wine I aspire to make.
Grandfather's Cuvée uses the Australian approach of blending in Syrah with the Cabernet rather than the Bordelais approach, but the goal is still the same. The Syrah fills in the middle palate and softens some of the tannins to make the whole more seamless and complete. The Cabernet, as always, is from the McGraw vineyard to the west of the winery and the Syrah component is from here on the estate. Given the low yields in 2015 I chose to bottle only the blend and not bottle a very small amount of Cabernet by itself as I usually do. This version, the 11th of the series, reminds me a little of the 2009. It has the obvious Cabernet fruit flavors, but a middle palate richness that cries out for a good steak or something grilled. Drinking very well now, it should continue to evolve for another 5-7 years in good cellaring conditions.
Wine Specs
Aging
17 months in barrel
Bottling Date
July 19, 2017
Wine Profile
Vineyard Notes
77% McGraw Vineyard Cabernet Sauvignon, 23% Estate Syrah
Production
257 cases produced