2015 Syrah
Rossi Ranch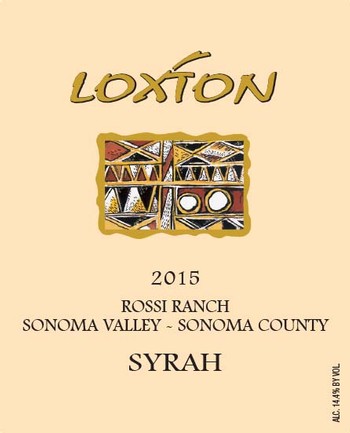 Wine Specs
Appellation
Sonoma Valley
Bottling Date
July 9, 2017
At first it might seem a little odd that I do so little lab analysis of my grapes and wines. Especially given that I was head of an analytical laboratory at the University of Illinois. The thing is, having the numbers on all sorts of metrics is mostly useful when things go wrong and I always hope to avoid things going wrong. After all, I often say that I don't sell wine because the pH is perfect! Some things need to be known of course. The wine's alcohol content determines my tax liability and we need to have enough of the preservative which is sulfite, and the right amount of that is pH dependent. These three things are the extent of my analysis of wine for most circumstances. For grapes we measure the pH and the sugar content of the juice and I do this by collecting about 100-200 berries at random in the vineyard to get a representative sample of that block, or clone, or soil type. I also have to think about the weather, scheduling, the availability of a picking crew and vine health.
The biggest thing, however, is what I find while eating grapes on my walk. I think about flavors and look at seed maturation, and chew on the grape skins and think about astringency. If grape skins are astringent this will quickly be extracted into our red wine leading to harshness or bitterness. I planted a persimmon tree in the picnic area and often say that if you don't know what astringency is, then you should take a bite out of an orange, but hard, persimmon. I love persimmons but had to learn the hard way that some are only edible when they get soft and the astringency disappears. Bananas have this as well and green bananas are very astringent.
This discussion is relevant for Syrah from the Rossi Ranch. Fruit from that vineyard tends to have lots of tannins which can be astringent (think tea bag in water too long) and also high acidity. These two things together can lead to harsh wines unless the right picking decision is made. The positive aspect is when you get it right and the tannins are rounded and softer then the wines have excellent texture and age wonderfully. This is why it's often the wine I choose to hold back to become my cellar selection and why it's the last of the vineyard designated Syrah wines to be released. This '15 version was my favorite in the multi-vintage Rossi Ranch tasting we did this last Summer and I expect it to have a great cellar life. It has the fruit to balance the soft tannins and would be perfect with hearty meals.
Wine Specs
Appellation
Sonoma Valley
Bottling Date
July 9, 2017
Wine Profile
Production
186 cases produced