2016 GSP
Estate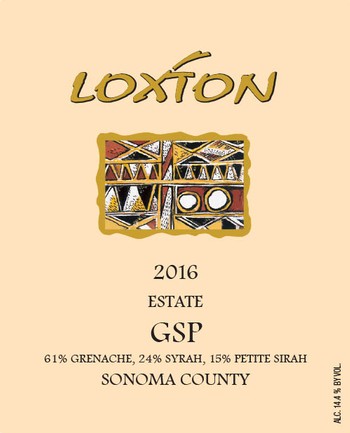 Wine Specs
Appellation
Sonoma Valley
Vineyard Designation
Estate
Aging
18 months in a 500 gallon neutral oak foudre
Bottling Date
March 16, 2018
I made my first wine under the Loxton label in 1996, the same year I visited the Rhone Valley in France. While most of the time was spent in the North where the only red grape is Syrah, I did spend a few days in the South where Grenache is king. When I visited the Chateauneuf du Pape region I was lucky enough to taste the individual components of the Vieux Telegraphe wine and I remember being shocked to find that I liked the Grenache more than the Syrah. It was one of three properties I visited and the thing that impressed me most was their attitude of including us into the winemaker fraternity. I hadn't expected the people we visited, all very passionate and famous, would be so giving with their time and hospitality to our group who were just at the beginning of their careers. Rather than jealously guarding their heritage, they were inspiring us to be the best we could be.
The vineyards of Chateauneuf are based on Grenache, almost always with other grapes to make a complete and compelling story. There are 13 different allowed grape varieties, although most places use just 3-4 of the main ones. The resurgence of interest in these Southern Rhone wines has been mirrored in other areas and I joined that group in 2013. Sonoma Valley is proving to be a great place for these Grenache based blends and it was an excellent decision to graft some of our vines to Grenache and Petite sirah. Last year the GSP blend was chosen by a panel of Sommeliers to be presented at the Signature Sonoma Valley Icon tasting. The new version this year has again been chosen so I will be one of 10 vintners featured at the kick-off celebration for the Signature event.
The new vintage again has Grenache as the dominant player, bringing acidity and cherry fruit, while Syrah adds richness and spice and Petite sirah (hence GSP) adds color and structure. Inspired by Rhone traditions, oak is used sparingly and the blended wine aged in a 500 gallon oak Foudre to maintain freshness. This is my 4th GSP blend and is the most forward and voluptuous at this release stage. Wonderful sweet cherry fruit with nice tannins on the finish. The use of multiple varieties gives a level of complexity beyond just fruitiness and this allows it to match a wide variety of foods from salmon to chicken, pork and mushroom based foods. Enjoyable now I think it should improve for the next 2-3 years and hold for 2-3 more after that.
Wine Specs
Appellation
Sonoma Valley
Vineyard Designation
Estate
Aging
18 months in a 500 gallon neutral oak foudre
Bottling Date
March 16, 2018
Wine Profile
Vineyard Notes
100% Estate
Winemaker Notes
61% Grenache, 24% Syrah, 15% Petite Sirah
Production
242 cases produced