2017 Cabernet Sauvignon
McGraw Vineyard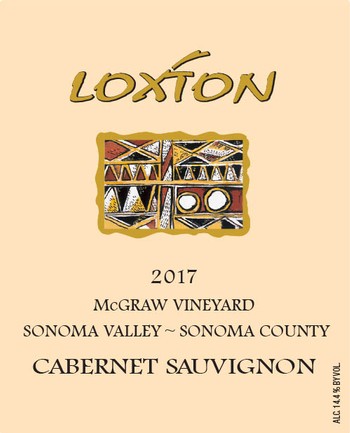 Wine Specs
Varietal
Cabernet Sauvignon
Appellation
Sonoma Valley
Vineyard Designation
McGraw Vineyard
Bottling Date
July 2, 2018
One of my first jobs in the wine industry was working at a bigger Sonoma winery dedicated to Chardonnay. I was wanting to learn about how to make and deal with this important grape and one day the winemaker told me that he spent more time and effort deciding which cork company to deal with than he did on what day to pick the grapes! I was fresh out of the UC Davis enology program and wanted to learn about what type of yeast, fermentation temperatures and what kind of barrels to use. Packaging was just something to pick out of a catalog and this revelation was just a little deflating.
When I made the '17 McGraw Cabernet I thought that it was quite special. It reflects 15 years of experience with the vineyard, an excellent year for wines and was fortunately picked well before our fires that devastated much of the wine area in October of that year. It's a bit more intense version than previous wines, more structured, and reminds me more of my Mt. Veeder Cabernet of which the vintage was sadly lost in '17 due to smoke damage to the grapes. There is a core of red fruit, oak is present but only just so and has the potential for long age in the cellar if desired. I just couldn't bear that some bottles might end up tasting not as they should because of corks, but didn't think consumers would be ready for a screwcap.
Fortunately, technology has helped out and I'm confident that the wine will taste exactly as it was meant to be at bottling time. This is my first red wine bottled with a new generation "diam" cork. It's a natural cork product where bark is ground into fine particles, processed to remove any taint or off flavors (the same process used to remove caffeine from coffee beans) and then re-assembled with a food grade binder. This effectively eliminates the variability between traditional corks that results from the natural variation in the bark. I have opted for the deluxe version which guarantees to push back to make the seal for 30 years (long after the last bottle has been consumed!) and is guaranteed to not impart any off flavors into the wine. The only issue I've found is that if the bottle is only partially emptied they are a little more difficult to re-insert once opened, although for many of us this might be of theoretical interest only!
Wine Specs
Varietal
Cabernet Sauvignon
Appellation
Sonoma Valley
Vineyard Designation
McGraw Vineyard
Bottling Date
July 2, 2018
Wine Profile
Production Notes
147 cases produced