2017 Pinot Noir
Griffin's Lair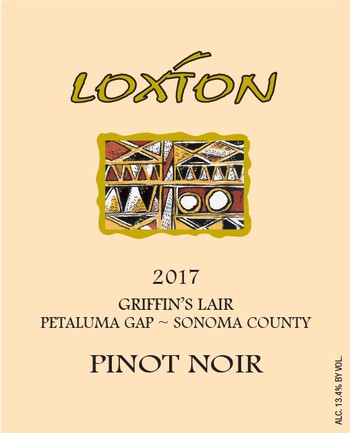 Wine Specs
Bottling Date
July 23, 2018
This is my final Pinot noir from Griffin's Lair, at least for some time. I have very much enjoyed the association with this vineyard since the first one in 2011. In early 2018, however, I started thinking that I might concentrate my efforts more on the Estate grown Grenache. When the Griffin's called to tell me that they were retiring and had sold the property it was the final push to change direction.
It wasn't an easy decision as I've been very happy with the wines I've made. When I made my first Pinot noir in 2005 (from Hawk Hill vineyard) it was really to try and learn something as a winemaker. Pinot has a reputation for being so hard to make and I thought that working with it might make me a better winemaker. The first 6 wines were all from the Russian River Valley area and when I lost access to that fruit I moved over to Griffin's Lair in the Petaluma Gap appellation. I found that some of the things I learned about Pinot were very much site specific. While more toasty barrels worked well to tame the overt fruitiness of Russian River fruit, it accentuated the more earthy notes from the Petaluma Gap. Additionally, while some clones of Pinot noir add lots of floral notes, I found that in Petaluma Gap it was maybe better if I concentrated more on richness and power. With this in mind, the 2017 wine is made from only the one clone of Pinot know as "Pommard" which is known for its color and density whereas earlier vintages were multiple clones. With just the one harvest per year, you can see that it takes time to really understand a site.
I think this wine captures the essence of Petaluma Gap Pinot. It is a lighter more elegant style yet with lots of middle palate sweetness. This makes it a great match with salmon, although I've also had the wine with pasta dishes that have some pancetta. Drink now or hold for 3-4 years. I'm pleased that while this might be the last, it also reflects 7 vintages of learning and the attention to detail and excellence of the Griffins and their farming practices.
Wine Specs
Bottling Date
July 23, 2018
Wine Profile
Production
158 Cases produced