2017 Syrah
Griffin's Lair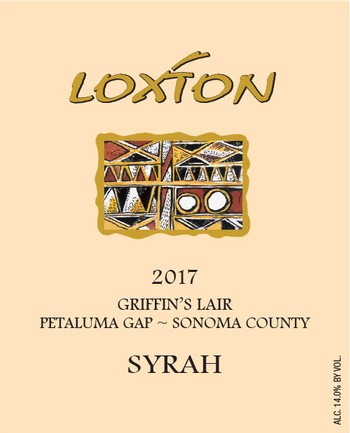 Wine Specs
Vineyard Designation
Griffin's Lair
Bottling Date
March 18, 2019
When Joan and Jim Griffin established their vineyard just north of the San Francisco bay there was no Petaluma Gap appellation and very little experience of Syrah grown in the region. Pinot noir was the more obvious choice and their vineyard quickly gained a reputation for its excellent Pinot noir grapes. I made Pinot from the vineyard for 7 years and can attest to how well it performed there. I would argue, however, that it's the less obvious choice of Syrah that is the best match to this fabulous site. The relatively warm winters and the mild summer from being close to the water gives a long growing season where the vines don't get over-stressed. The result is a depth of flavor in the wines that can be exceptional.
Even with these advantages, it still requires dedication from the owners and this is where the Griffin's excelled. Joan did most of the management, along with a vineyard management company, and I loved visiting the vineyard as I came away knowing more than when I arrived. She was often asking for opinions on what to do and apparently did this with everyone but then had the ability to distill these down into a plan to grow better grapes. Her dedication to looking at the bigger picture for sustainable agriculture, improvement of the soil, better vine canopy management and beneficial insects has pushed me to be a better steward of my own Estate vineyard.
Following the 2017 harvest Joan and Jim Griffin decided to sell their vineyard and retire from this "retirement" project. I have tremendous admiration for what they accomplished, taking a risk to establish a new vineyard in a fairly new area and believe this new release is a fitting tribute to their work. It has the depth of flavor and a "thick" texture that I also noted in the 2016 version. It reflects concentrated grapes without being heavy or alcoholic. I believe it to be one of my best Griffin's Syrah wines and expect that it will be great in the cellar for up to 10 years.
Wine Specs
Vineyard Designation
Griffin's Lair
Bottling Date
March 18, 2019
Wine Profile
Production Notes
147 cases produced