2018 Sencillo
Viognier-Chardonnay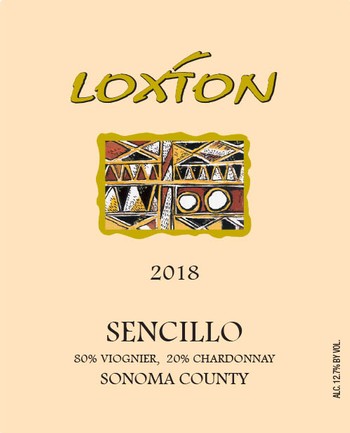 Wine Specs
Aging
6 months neutral oak
Bottling Date
March 18, 2019
As the summer temperatures increase I start thinking about lighter meals and this means lighter wines. Back in South Australia the wine to reach for was Riesling; traditionally made in a style without oak flavor or residual sugar and with lower alcohol. I love these wines but California Rieslings can have a perception problem as many are just a little sweet, fine for sitting on the deck, but not so food friendly and refreshing. This wine, inspired by the remembrance of the dry Rieslings is instead based on the Viognier grapes grown in front of the winery. Hand picked and only gently pressed to get the finest juice quality, it is made without using any yeast, without the use of new oak barrels and has no measurable sugars in the final wine (kept simple, hence the name "Sencillo").
I planted Viognier in 2014 as it has multiple uses, white wine, great late harvest dessert wines, and it's even useful when added to Syrah during fermentation where it adds a lovely floral note. We are finding that growing Viognier is a little different than our other grape varieties. It appears to sunburn easily and this leads to more astringent wine so we need to keep a little more leaf cover for protection. Due to the very tight bunches this extra leaf cover can mean wet bunches so we need to be vigilant about mold. These tight bunches also don't allow much space for berry expansion (some are even pushed off the stems as the berries expand!) so we need to be careful with irrigation which can swell the berries. Finally, the big clusters mean high yields which we limit by reducing the allowed shoot numbers and having only 1 bunch per shoot. This year we will also clip off a few florets on each bunch to give space for the berries to expand and allow air flow for mold control. We expect this will mean even better wines in 2019, but as mentioned in the introduction, patience is required to find out!
This is a wine to have during the warm days of summer. The Viognier gives wonderful peach and spice aromatics and the lower alcohol with nice acidity gives the wine freshness. The addition of Chardonnay adds more middle palate weight and fills out the finish. You might try this with grilled chicken or stir fry shrimp. I expect this wine will be at its best this Summer and for the next 12 months, but why wait!
Wine Specs
Aging
6 months neutral oak
Bottling Date
March 18, 2019
Wine Profile
Vineyard Notes
80% Estate Viognier, 20% Hawk Hill Chardonnay
Production
130 cases produced