2018 Syrah
Griffins Lair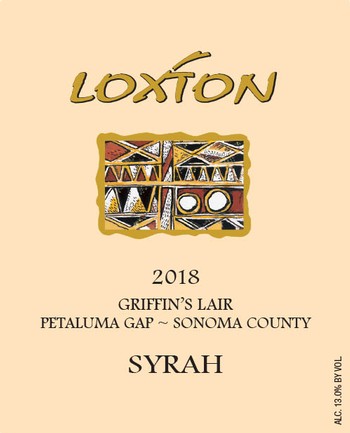 For much of my time with Griffin's Lair I dealt with Glenn Alexander of Bacchus Vineyard Management. Glenn also knows great wines,has an excellent cellar and his wife Melissa is one of the best cooks I know! A native of East Texas, Glenn moved to Sonoma County after 20 years in business and bought a house with 9 acres of old vine Zinfandel in Russian River. He took viticulture classes and interned at a vineyard management company and was soon farming for his neighbors. He then established his own vineyard management company working with some of the best names in the business. In addition to knowing grape growing, Glenn has a very practical knowledge of the economics of running a business. Sometimes winemakers have ideas for growing grapes that would require an unlimited budget and huge numbers of workers, but when costs of farming are greater than revenue, this can't be sustainable! I loved working with Glenn and his a la carte approach to farming as he was more than willing to say "Its fine, we can do that, but here's what it's going to cost". With access to great vineyards and excellent farming, it wasn't too long until he established his own brand "Sanglier Cellars".
This is my 10th vintage of Griffin's Lair Syrah and unfortunately it will be the last for a while. The area I have been getting, which was predominantly the 877 clone, has been showing symptoms of decline for several years. By the end of harvest 2018 enough vines had been removed to make the section no longer economically viable and it was slated for removal. This is such a pity as the wines have been excellent, but I've seen this in other vineyards as well where the 877 clone has been used.
When I taste through the Griffin's Lair wines from these 10 harvests I find a common thread through them all, related to the texture in the wine. They typically have a lower alcohol than my other vineyards as the moderate climate allows full flavor development at low sugars, but this isn't readily apparent as the Griffin's Lair wines have what I call a "thick" texture. There is a richness that also shows in wines from other producers using this fruit, and it leads to a wine that can be enjoyed by itself or is excellent with food. Drink now and for the next 5 years.