2018 Syrah
Rossi Ranch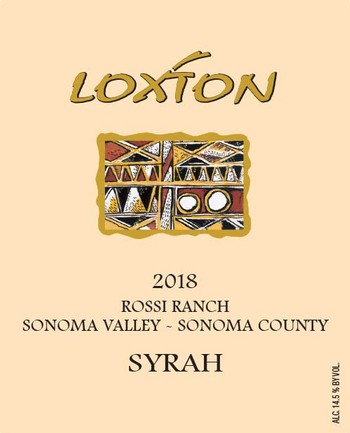 Wine Specs
Appellation
Sonoma Valley
Vineyard Designation
Rossi Ranch Vineyard
Bottling Date
March 16, 2020
Phil Coturri took over the vineyard management of Rossi Ranch following the 2012 harvest. Phil has a larger-than-life personality and has been growing fabulous organically farmed grapes for many years. His management company, Enterprise, has grown into one of the bigger companies and farms a who's who of great vineyard properties in Sonoma and Napa. Much of Rossi has been replanted while keeping as much as possible of the original plantings from 1910. These changes have resulted in my Rossi Syrah now coming from the Lawndale #7 Block, planted using the Alban "power block" selection. Enterprise has a manager, Nellie Pretzel, dedicated to the Rossi Ranch and this leads to a greater understanding of the unique soils and microclimates of the ranch. Although a poet by training, Phil has been around vineyards for much of his life and operates on the principle that to grow good grapes you must know great wine and has travelled extensively in the Rhone and elsewhere. It seemed almost inevitable that he would be involved in the wine making process and his brand, Winery Sixteen 600, has access to some of the best fruit that he farms.

I appreciate the organic nature of his farming and his dedication to growing the best grapes possible. Picking and farming are exemplary, and apart from our estate grapes, this is the cleanest fruit that comes into the winery. As I am half of the sorting team when fruit is delivered, I really appreciate that I have almost nothing to do. Rossi fruit is virtually free of leaves and other debris, what we call "mog", or material other than grapes.
The Rossi Syrah is usually the biggest of my Syrah wines and is kept longer in bottle before release for that reason. It is my last release from 2018 and the extra time has allowed the wine to showcase the meaty and gamey side of the Syrah grape. It will be at its best with more robust meals and will continue to do so for another 7-10 years for those with cellar space.
Wine Specs
Appellation
Sonoma Valley
Vineyard Designation
Rossi Ranch Vineyard
Bottling Date
March 16, 2020
Wine Profile
Production Notes
127 cases produced
Winemaker Notes
100% Rossi Ranch Vineyard Syrah
Other Notes
Screw cap closure