2018 Zinfandel
Rossi Ranch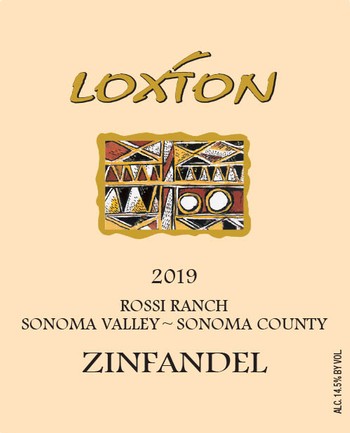 Wine Specs
Appellation
Sonoma Valley
Vineyard Designation
Rossi Ranch
Bottling Date
August 26th 2019
There are no secrets in the wine making process here at Loxton Cellars! Everything is done right in front of the winery entrance and our visitors can see all that we do. I like this as it allows people to see 'behind the curtains" and I've been asked just about every question that can be asked. The wine industry tends to cultivate a certain mystique, perhaps to justify high bottle prices, but I suspect people might enjoy my wines more if they know what goes into making a bottle of wine. Perhaps that isn't true for all things; I don't really want to know what goes into sausage!
It gives me pause though when we receive the Rossi Ranch Zinfandel. Like many old vineyards (this one originally planted in 1910) it is a field blend of many grape varieties including some white grapes. Our "Zinfandel" arrives at the winery with the occasional white grape bunches mixed in, some looking more like table grapes. For the first few years I used to patiently pick through and discard them, then I asked the crews not to pick them, but lately I've just been adding a few to the mix and it seems to work just fine. The problem is in trying to explain the apparent random nature of the fruit. One year I just told people it was a "white Zinfandel" just like the wine, hoping that they would see the humor as there isn't such a grape.
It matters not as the wine is consistently delicious. On a recent trip to the mountains I took along a bottle of the 2016 version and it had just the right amount of structure to match the great red berry fruitiness and I wished I'd kept more back in the cellar. I expect this 2018 version to follow much of the same path. I like it now with anything grilled and think it will get better for the next 3 or 4 years if you have the patience. No wonder the vines weren't pulled out in 100 years!
Wine Specs
Appellation
Sonoma Valley
Vineyard Designation
Rossi Ranch
Bottling Date
August 26th 2019