2022 Rosé
Estate, Vin Gris of Syrah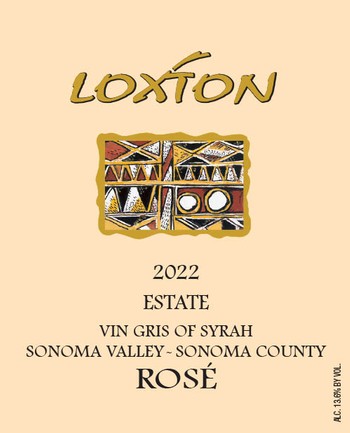 Wine Specs
Appellation
Sonoma Valley
Vineyard Designation
Estate
Bottling Date
February 23, 2023
I've been making Rosé since 2001 and it has come a long way in that time. The intention has always been to make a "serious" Rosé , much the same way as I might make a Chardonnay, but done in well used barrels so as to not have any oak flavor and bottled early to preserve freshness. While I'd been advised by friends not to make a Rosé, I thought that with a good one I'd be able to drink it if I couldn't sell it!

That first one came about when I was working with a Syrah vineyard on Sonoma Mountain. One clone was particularly late to ripen and wetter soils caused bigger berries and I decided to do it as a Rosé . My thinking at the time was that if the berries were diluted then I would need to get more flavor into the juice before fermentation. The grapes were crushed and the juice and skins macerated together overnight to extract as much character as possible before barrel fermentation. The wine had flavor, was well received, but had a much darker color and a bit more tannin than the best French examples.

The method has evolved over the years and rather than extract character from grapes that are less intense, I now farm for best flavors and treat the grapes as gently as possible. Grapes destined for our Rosé program are farmed the same way as we do for red wines, just picked a little earlier to achieve lower alcohol levels. The bunches of grapes go directly to press and the juice goes directly to barrel within hours of picking. The result is an attractive pale color, better aromatics and more freshness without sacrificing any of the flavor. Over the past 5 years the Rosé has consistently been my best selling wine through the Summer months.The 2022 Rosé was almost the wine that never happened. This version, with its' strawberry and pink grapefruit flavors, will be at its best over the next 12-18 months and will work with many different foods. Rosé is no longer a wine just for Summer!

Wine Specs
Appellation
Sonoma Valley
Vineyard Designation
Estate
Bottling Date
February 23, 2023
Wine Profile
Production Notes
265 cases produced
Winemaker Notes
100% Estate Syrah
Other Notes
Screw cap closure