Rossi Ranch Syrah Vertical
2011-2014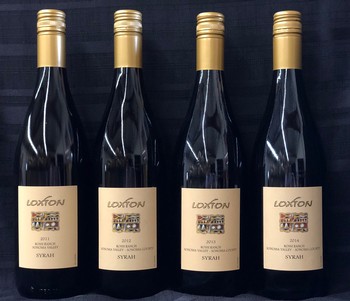 The Rossi Ranch here in Glen Ellen has just been chosen by the Sonoma Valley Vintners and Growers for special recognition in 2019 as a unique and historic vineyard.
I have been making Syrah from this vineyard since 2009 and there is a signature flavor through these wines that speaks of Rossi Ranch, a product of the soil and climate of the vineyard that is unique. The flavor might best be described as cocoa powder covered dark cherry while the aromatics show this in addition to a floral note, reminding me of violets. In cooler years it might accentuate red fruits, warmer years more boysenberry fruit, and hotter years show more black fruit. My Syrah block faces south west in red soils that limit vine growth and yield, but make for intense wines.
How are they tasting now? My impressions of my Rossi Ranch Syrahs as tasted in the last few months.
2011 Vintage
The result of one of the coolest years in the last 20. Picked before early rains.
Now at 7 years old it is transitioning into maturity and showing the leather notes of older Syrah while still having nice fruit. Medium color. Leather and aged Syrah by aroma. This is drinking wonderfully as it has a wonderful clean finish that stimulates the palate but doesn't overwhelm the food. Harmonious and balanced. Good clean acid, leather and red fruit notes, dusty tannins promise aging for another 5 years. 149 cases produced, 13.7% abv. Notes from November 2018
2012 Vintage
The first of the drought years. A big harvest of very high-quality wines
Also entering the phase of developed leather and showing the wild side of Syrah. Still has the vineyard signature tannins, but has a lovely sweet middle palate of black cherry fruit to balance them. A bigger wine then the '11, still has years left in front of it and is perhaps the most Australian old style Shiraz in character. 232 cases produced, 14.2% abv. Notes from October 2018
2013 Vintage
The second of the drought years, smaller harvest and intense wines
This wine still seems like a young wine. Lots of color, lots of blackberry fruit, good tannin structure, oak still showing but in the background. Has wonderful complexity and gets better and better in the glass showing red and black fruit, violets, some oak notes. Has a "thickness' in texture, so much of everything and time will bring it all together. Really needs food to tame the beast, but decanting will help. Will be very long lived and has been chosen as the wine to get extended aging for re-release to the wine club at some later date. 200 cases produced, 14.2% abv. Notes from November 2018
2014 Vintage
The third year of the drought. Small harvest of intense fruit.
This is the current release. A very young wine, intense fruit, black cherries and black plum, cocoa powder and violets, high quality oak matches the tannins and adds sweetness to the middle palate. A big wine that still manages to keep elegance with enough acidity to hold it all together. There is a sweetness beneath the muscle. Best with food or decanting. Will perhaps be the longest lived. 199 cases produced, 14.2% abv. Notes from October 2018